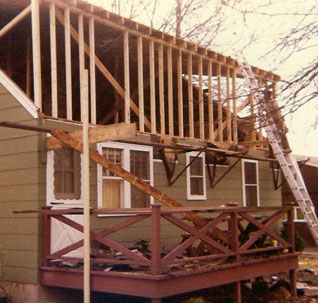 A well-planned room addition can enhance the style of your home as well as provide newfound space, comfort and livability. There are many reasons for adding living space to your home. Perhaps your growing family needs another bedroom or bathroom. Maybe you are starting a business and need a home office. Or maybe your spouse has been dreaming of a beautiful new kitchen! Whatever the reason, an addition to your home may solve your living space requirements. As you plan your addition project, it is important to ensure that the construction of your room is safe, meets State and local laws, and is carefully estimated to fit within your budget. Many homeowners hire a residential architect to help them through the project design and construction process.

Adding on to a house can be disruptive to your life, your household operations, your personal finances, and your family relationships. But the design and construction process can also be exciting and gratifying as you see your plans come to fruition! Furthermore, you may realize substantial savings by building a room addition instead of relocating and incurring real estate transaction costs.

The two basic types of room additions include horizontal additions and vertical additions. If you have space and necessary clearances on your property, a horizontal addition to the main living area of your house can greatly increase its comfort level and usability. Horizontal room additions generally require new footings and foundations to support the new space. If you have a small lot, you may be limited to adding an upstairs bedroom or bathroom. This could involve raising your roofline or extending your roof with a shed or gable dormer. If your budget does not permit an expensive addition, you may be able to add a screened porch or sunroom more economically. These "3-season" rooms may not require central heating or air conditioning.

On RoomAdditions.us, you can find step-by-step guidelines for adding space to your home, including design options and planning considerations as well as building permit requirements, budgeting, and project management. The site also features access to selected home remodeling services, home improvement products, and addition planning resources.
Room Addition and Remodeling Products
Home Additions Books
Home Remodeling Consumer Information
Home Improvement


Advice on home improvement topics, including how to find a competent and reliable contractor.
www.FTC.gov

Home Remodeling and Additions


Consumer advice and guidance about adding space to a home, including discussions of remodeling styles and regulations. Whether you plan to hire a contractor or do the work yourself, this section of the Better Homes and Gardens website provides essential information about renovating or adding to your home.
www.BHG.com
---
Copyright 2003-2023 Zeducorp.
All rights reserved.
About Us
.
Contact Us
.
Search
.
For your convenience, certain links will open in new windows.
Room Additions - Home Additions